It happens, minding your own business, maybe walking down a beach, maybe swimming in a pool, or even worse, on a night train hurtling down the rickety tracks equipped with only a dirty, wet squat toilet and no toilet paper. Stomach seizing up, you feel that urgency through the whole of your body. It's not pleasant, but it's a reality of travel for most.
I've experience all of the scenarios above, and this time I was somewhat lucky that I wasn't in a dire "run for the hills" sort of emergency. I knew it was coming. It always does, for me, at least once, every time I travel to this part of the world.
Day 3 in Sihanoukville, Cambodia was wrapping up. We booked our minibus to the provincial town of Kampot that afternoon headed toward the boarder with Vietnam. On our last night we headed out to an English pub across the street from our Chinese hotel for some food and a beer. Meeting new friends, the night carried on a bit, but we cut ourselves off and headed home.
Upon waking up I should have known something more was amiss. Too groggy, and queasy for what I had drank I dismissed it as a simple hangover, waking up only when my girlfriend had told me she was headed to breakfast.
What followed isn't suitable for readers stomach's. Just know, I was in pain, terrible pain, and what I hoped was just a hangover was certainly something much much worse. It might have been in the food. It might have been in the beer. It might have been the ice. I wish I knew.
A two hour bus ride to Kampot followed. With my uncanny luck, I was given a backwards facing seat on a minibus with a tall French man sitting opposite me. Even better, the minibus didn't have space behind the last seat for baggage, so it all was piled behind me, leaving my seat at an 85 degree angle. Super comfortable! The next two hours was an exercise in willpower. Head down, sweating profusely, thoughts on the wind through the window rather than every bump in the road. I spent my time wishing for a flat tire, or a bridge out. I wanted out.
We finally arrived in Kampot, and delirious with whatever ailment I had, agreed to a windowless room with a fan, and copious amounts of black mold. I just needed to lay down. So, my girlfriend left to see the town I made a point to visit on this trip (I missed out on five years ago) while I lay in bed, sweating, under blankets, running to the bathroom every five minutes.
French colonial ruins, fresh pepper and fish, dusty backroads and a slow moving river. Not for me.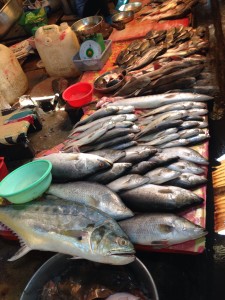 The next day I swore I was better, but a joyful trip to breakfast to eat some food proved otherwise. I hadn't made it halfway across the street from the guesthouse before I was running back. But, I soldiered on, determined to see the town, the sun, and get on with my days. Punctuated by a move to a guesthouse with a window, and two long naps, I survived. However, eating only a baguette and some water in the span of two days leaves you with very little energy. I managed to survive a two hour sunset boat cruise, an exercise in body control and willpower, only to fall asleep at 8:30.
The following day I decided bed was the best place to be until I could manage 30 minutes without a toilet.
Kampot, I wanted to love you, but saw you only in a short burst, and in photos from my girlfriend.
I've managed to eat in the last day, and resume somewhat normal body functions, albeit, still extremely tired.
You take the good with the bad on the road, and soldier on. Self deprecating posts aside, I'm sad I'm closing in on the halfway point of my trip. Now in the small coastal retreat of Kep, Vietnam awaits!