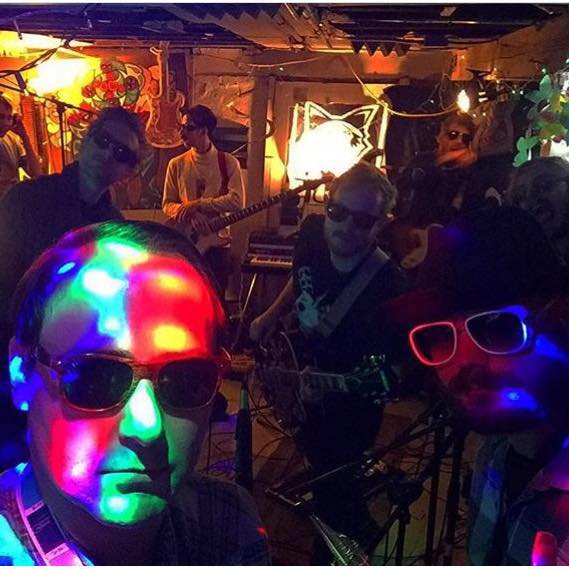 Elephant Gun is an 8-9 piece band from Chicago who have been playing their eclectic mix of genre-bending psychedelic rock since 2007.
The group will bounce around from Bluegrass to Laurel Canyon inspirations to loud Brit-Pop elements, using mostly traditional instrumentation and influences. They just released their 4th full-length politely named Castle Boots, on Berserk Records last March to critical acclaim from WXRT and various bloggers.
The band is incredibly interested in fantastic gourmet spreads, fine wines and beer. Decadent dessert tables with the finest chocolates and truffles. Lavish cheese boards. Strong coffee with a side of fresh cream, the smells of fresh baked breads and pastries in the morn. Crispy, flaky, crusty pie slices filled with berries and sugar, melting vanilla bean ice cream pooling on a plate of happiness. Pretty much a dream in a room. A room in a house, a luxury home in a delicious wilderness we call the universe.
Press
"…the new Elephant Gun is compelling listening especially from a sonic/sound stand point. I couldn't begin to tell you what any of the songs are about. The vocals are front and center but it's the melodies I get lost in and are what pull me in on just about every song." – Richard Milne, WXRT
"The collective whimsically and uncannily storms through indie pop, folk, gypsy punk and more for a kaleidoscopic style and transportive energy. Elephant Gun is a band that truly defies definition. Good luck not freaking out to their riotously good latest album "Castle Boots"- lyynks.com
"This nine-piece project is tough to pin down sonically; they've been described as everything from "aggressive Americana" to "metal-influenced folk pop." Do with that information what you will—the best way to get a feel for this group is to catch them live and take in their raucous, sweeping sound." -PASTE MAGAZINE
"Uplifting and unusual, with haunting and fast-paced whimsical numbers you just can't help moving to, Elephant Gun may be one of the most authentic and promising bands coming out of the Chicagoland area." – The Woodstock Independent
"At times silly, at times joyous, by god its got quirky energía about it nearly the whole way"- Chicago Tunes
"Americana-baked, ballroom swagger with a penchant for screaming describes Elephant Gun. Metal-influenced folk pop works too. Country-punk seems a bit of a generalization, but fuck it. World/Inferno Friendship Society meets Aganst Me! for Chicagoland's hippie punks. They're an nine-piece rock band with too many influences to name. It's fine. Because as all-over-the-map as they may be, they know how to craft full-on records just as well as they do orchestral basement-rock. For that we are proud of them. Jared may keep his goods safe. For now."- Cassette Deck Media